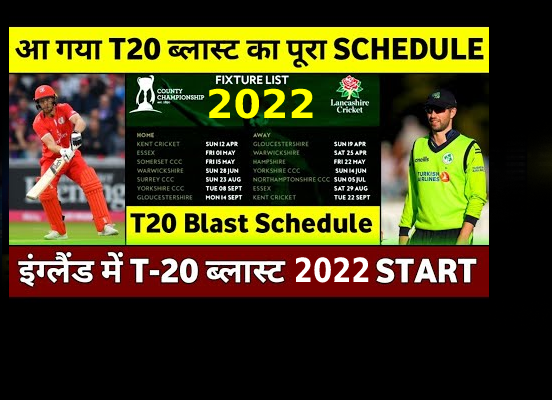 T20 Blast 2022 Schedule, Squad, Points Table, Live Stream | The TIIS
T20 Blast 2022 Schedule, Squad, Points Table, Live Stream | The TIIS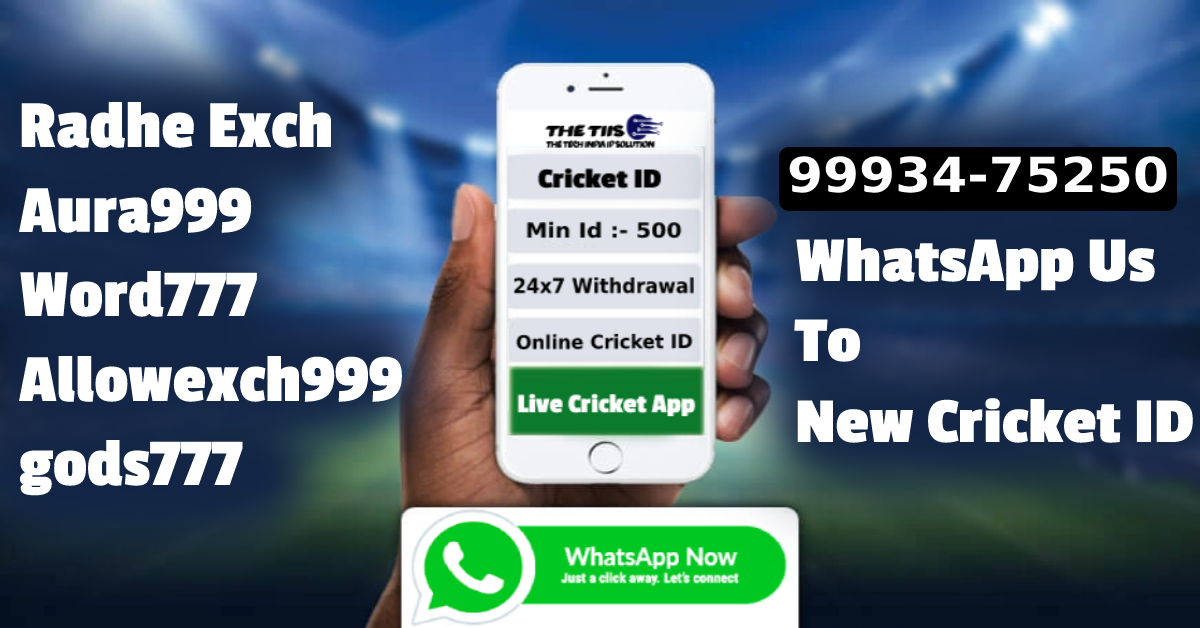 Whatsapp Us For Online Cricket Id - 88253-38386
| Date | Match | Local | GMT |
| --- | --- | --- | --- |
| 25-May-22 | Yorkshire Vikings vs Worcestershire Rapids | 18:30 local | 17:30 GMT |
|   | Kent Spitfires vs Somerset CCC | 19:00 local | 18:00 GMT |
| 26-May-22 | Middlesex vs Gloucestershire | 16:30 local | 15:30 GMT |
|   | Birmingham Bears vs Steelbacks | 18:30 local | 17:30 GMT |
|   | Leicestershire Foxes vs Durham Cricket | 18:30 local | 17:30 GMT |
|   | Sussex Sharks vs Glamorgan | 19:00 local | 18:00 GMT |
| 27-May-22 | Gloucestershire vs Sussex Sharks | 18:30 local | 17:30 GMT |
|   | Lancashire Lightning vs Yorkshire Vikings | 18:30 local | 17:30 GMT |
|   | Surrey CCC vs Glamorgan | 18:30 local | 17:30 GMT |
|   | Steelbacks vs Durham Cricket | 18:30 local | 17:30 GMT |
|   | Notts Outlaws vs Worcestershire Rapids | 18:30 local | 17:30 GMT |
|   | Hampshire Hawks vs Middlesex | 19:00 local | 18:00 GMT |
|   | Kent Spitfires vs Essex Eagles | 19:00 local | 18:00 GMT |
|   | Derbyshire Falcons vs Birmingham Bears | 19:00 local | 18:00 GMT |
| 28-May-22 | Leicestershire Foxes vs Derbyshire Falcons | 14:30 local | 13:30 GMT |
| 29-May-22 | Birmingham Bears vs Durham Cricket | 14:30 local | 13:30 GMT |
|   | Lancashire Lightning vs Worcestershire Rapids | 14:30 local | 13:30 GMT |
|   | Middlesex vs Glamorgan | 14:30 local | 13:30 GMT |
|   | Sussex Sharks vs Kent Spitfires | 14:30 local | 13:30 GMT |
|   | Somerset CCC vs Essex Eagles | 16:00 local | 13:30 GMT |
|   | Yorkshire Vikings vs Leicestershire Foxes | 15:00 local | 14:00 GMT |
|   | Notts Outlaws vs Steelbacks | 15:00 local | 14:00 GMT |
| 30-May-22 | Hampshire Hawks vs Somerset CCC | 19:00 local | 18:00 GMT |
| 31-May-22 | Yorkshire Vikings vs Derbyshire Falcons | 18:30 local | 17:30 GMT |
|   | Surrey CCC vs Gloucestershire | 18:30 local | 17:30 GMT |
|   | Notts Outlaws vs Lancashire Lightning | 18:30 local | 17:30 GMT |
|   | Essex Eagles vs Hampshire Hawks | 19:00 local | 18:00 GMT |
| 1-Jun-22 | Lancashire Lightning vs Derbyshire Falcons | 14:30 local | 13:30 GMT |
|   | Gloucestershire vs Kent Spitfires | 18:30 local | 17:30 GMT |
|   | Durham Cricket vs Worcestershire Rapids | 18:30 local | 17:30 GMT |
|   | Steelbacks vs Leicestershire Foxes | 18:30 local | 17:30 GMT |
|   | Somerset CCC vs Sussex Sharks | 18:30 local | 17:30 GMT |
| 2-Jun-22 | Birmingham Bears vs Leicestershire Foxes | 18:30 local | 17:30 GMT |
|   | Surrey CCC vs Hampshire Hawks | 18:30 local | 17:30 GMT |
|   | Glamorgan vs Essex Eagles | 19:00 local | 18:00 GMT |
| 3-Jun-22 | Worcestershire Rapids vs Birmingham Bears | 14:30 local | 13:30 GMT |
|   | Gloucestershire vs Essex Eagles | 18:30 local | 17:30 GMT |
|   | Lancashire Lightning vs Steelbacks | 18:30 local | 17:30 GMT |
|   | Yorkshire Vikings vs Durham Cricket | 18:30 local |  17:30 GMT |
|   | Somerset CCC vs Glamorgan | 18:30 local | 17:30 GMT |
|   | Kent Spitfires vs Surrey CCC | 19:00 local | 18:00 GMT |
|   | Sussex Sharks vs Middlesex | 19:00 local | 18:00 GMT |
|   | Derbyshire Falcons vs Notts Outlaws | 19:00 local | 18:00 GMT |
| 4-Jun-22 | Hampshire Hawks vs Sussex Sharks | 19:00 local | 18:00 GMT |
| 5-Jun-22 | Kent Spitfires vs Middlesex | 14:30 local | 13:30 GMT |
|   | Birmingham Bears vs Notts Outlaws | 14:30 local | 13:30 GMT |
|   | Durham Cricket vs Steelbacks | 14:30 local | 13:30 GMT |
|   | Worcestershire Rapids vs Leicestershire Foxes | 14:30 local | 13:30 GMT |
|   | Glamorgan vs Surrey CCC | 14:30 local | 13:30 GMT |
| 6-Jun-22 | Yorkshire Vikings vs Notts Outlaws | 18:30 local | 17:30 GMT |
| 7-Jun-22 | Middlesex vs Hampshire Hawks | 16:30 local | 15:30 GMT |
|   | Glamorgan vs Gloucestershire | 18:30 local | 17:30 GMT |
|   | Steelbacks vs Derbyshire Falcons | 18:30 local | 17:30 GMT |
|   | Leicestershire Foxes vs Lancashire Lightning | 18:30 local | 17:30 GMT |
|   | Essex Eagles vs Kent Spitfires | 19:00 local | 18:00 GMT |
| 8-Jun-22 | Durham Cricket vs Birmingham Bears | 18:30 local | 17:30 GMT |
|   | Surrey CCC vs Sussex Sharks | 18:30 local | 17:30 GMT |
| 9-Jun-22 | Middlesex vs Surrey CCC | 18:15 local | 17:15 GMT |
|   | Gloucestershire vs Somerset CCC | 18:30 local | 17:30 GMT |
|   | Steelbacks vs Worcestershire Rapids | 18:30 local | 17:30 GMT |
|   | Hampshire Hawks vs Essex Eagles | 19:00 local | 18:00 GMT |
|   | Derbyshire Falcons vs Leicestershire Foxes | 19:00 local | 18:00 GMT |
| 10-Jun-22 | Worcestershire Rapids vs Derbyshire Falcons | 17:30 local | 16:30 GMT |
|   | Birmingham Bears vs Yorkshire Vikings | 18:30 local | 17:30 GMT |
|   | Durham Cricket vs Lancashire Lightning | 18:30 local | 17:30 GMT |
|   | Glamorgan vs Hampshire Hawks | 18:30 local | 17:30 GMT |
|   | Somerset CCC vs Kent Spitfires | 18:30 local | 17:30 GMT |
|   | Leicestershire Foxes vs Notts Outlaws | 18:30 local | 17:30 GMT |
|   | Sussex Sharks vs Gloucestershire | 19:00 local | 18:00 GMT |
|   | Essex Eagles vs Middlesex | 19:00 local | 18:00 GMT |
| 17-Jun-22 | Durham Cricket vs Yorkshire Vikings | 18:30 local | 17:30 GMT |
|   | Surrey CCC vs Middlesex | 18:30 local | 17:30 GMT |
|   | Somerset CCC vs Gloucestershire | 18:30 local | 17:30 GMT |
|   | Steelbacks vs Lancashire Lightning | 18:30 local | 17:30 GMT |
|   | Notts Outlaws vs Birmingham Bears | 18:30 local | 17:30 GMT |
|   | Leicestershire Foxes vs Worcestershire Rapids | 18:30 local | 17:30 GMT |
|   | Hampshire Hawks vs Kent Spitfires | 19:00 local | 18:00 GMT |
|   | Essex Eagles vs Sussex Sharks | 19:00 local | 18:00 GMT |
| 18-Jun-22 | Derbyshire Falcons vs Yorkshire Vikings | 14:30 local | 13:30 GMT |
|   | Worcestershire Rapids vs Steelbacks | 14:30 local | 13:30 GMT |
|   | Gloucestershire vs Glamorgan | 18:30 local | 17:30 GMT |
| 19-Jun-22 | Hampshire Hawks vs Surrey CCC | 14:30 local | 13:30 GMT |
|   | Birmingham Bears vs Derbyshire Falcons | 14:30 local | 13:30 GMT |
|   | Durham Cricket vs Leicestershire Foxes | 14:30 local | 13:30 GMT |
|   | Middlesex vs Kent Spitfires | 14:30 local | 13:30 GMT |
|   | Glamorgan vs Sussex Sharks | 14:30 local | 13:30 GMT |
|   | Lancashire Lightning vs Notts Outlaws | 14:30 local | 13:30 GMT |
|   | Essex Eagles vs Somerset CCC | 14:30 local | 13:30 GMT |
| 21-June-22 | Surrey CCC vs Somerset CCC | 18:30 local | 17:30 GMT |
|   | Glamorgan vs Middlesex | 18:30 local | 17:30 GMT |
|   | Notts Outlaws vs Leicestershire Foxes | 18:30 local | 17:30 GMT |
|   | Kent Spitfires vs Gloucestershire | 19:00 local | 18:00 GMT |
|   | Derbyshire Falcons vs Steelbacks | 19:00 local | 18:00 GMT |
| 22-Jun-22 | Steelbacks vs Birmingham Bears | 18:30 local | 17:30 GMT |
| 23-Jun-22 | Worcestershire Rapids vs Yorkshire Vikings | 17:30 local | 16:30 GMT |
|   | Lancashire Lightning vs Durham Cricket | 17:30 local | 16:30 GMT |
|   | Middlesex vs Essex Eagles | 18:15 local | 17:15 GMT |
|   | Notts Outlaws vs Derbyshire Falcons | 18:30 local | 17:30 GMT |
|   | Somerset CCC vs Hampshire Hawks | 19:00 local | 17:30 GMT |
|   | Sussex Sharks vs Surrey CCC | 19:00 local | 18:00 GMT |
| 24-Jun-22 | Gloucestershire vs Hampshire Hawks | 18:30 local | 17:30 GMT |
|   | Durham Cricket vs Notts Outlaws | 18:30 local | 17:30 GMT |
|   | Glamorgan vs Somerset CCC | 18:30 local | 17:30 GMT |
|   | Steelbacks vs Yorkshire Vikings | 18:30 local | 17:30 GMT |
|   | Birmingham Bears vs Worcestershire Rapids | 19:00 local | 18:00 GMT |
|   | Kent Spitfires vs Sussex Sharks | 19:00 local | 18:00 GMT |
|   | Essex Eagles vs Surrey CCC | 19:00 local | 18:00 GMT |
|   | Derbyshire Falcons vs Lancashire Lightning | 19:00 local | 18:00 GMT |
| 1-Jul-22 | Worcestershire Rapids vs Lancashire Lightning | 17:30 local | 16:30 GMT |
|   | Middlesex vs Somerset CCC | 18:15 local | 17:15 GMT |
|   | Yorkshire Vikings vs Birmingham Bears | 18:30 local | 17:30 GMT |
|   | Surrey CCC vs Kent Spitfires | 18:30 local | 17:30 GMT |
|   | Leicestershire Foxes vs Steelbacks | 18:30 local | 17:30 GMT |
|   | Notts Outlaws vs Durham Cricket | 19:00 local | 18:00 GMT |
|   | Hampshire Hawks vs Gloucestershire | 19:00 local | 18:00 GMT |
|   | Sussex Sharks vs Essex Eagles | 19:00 local | 18:00 GMT |
| 2-Jul-22 | Essex Eagles vs Glamorgan | 19:00 local | 18:00 GMT |
| 3-Jul-22 | Gloucestershire vs Middlesex | 14:30 local | 13:30 GMT |
|   | Kent Spitfires vs Glamorgan | 14:30 local | 13:30 GMT |
|   | Lancashire Lightning vs Birmingham Bears | 14:30 local | 13:30 GMT |
|   | Worcestershire Rapids vs Notts Outlaws | 14:30 local | 13:30 GMT |
|   | Sussex Sharks vs Hampshire Hawks | 14:30 local | 13:30 GMT |
|   | Derbyshire Falcons vs Durham Cricket | 14:30 local | 13:30 GMT |
|   | Leicestershire Foxes vs Yorkshire Vikings | 14:30 local | 13:30 GMT |
|   | Somerset CCC vs Surrey CCC | 19:00 local | 17:30 GMT |
| 7-Jul-22 | TBC vs TBC – Quarter Final 1 | 18:30 local | 18:30 GMT |
| 9-Jul-22 | TBC vs TBC – Quarter Final 2 | 18:30 local | 18:30 GMT |
|   | TBC vs TBC – Quarter Final 3 | 18:30 local | 18:30 GMT |
| 10-Jul-22 | TBC vs TBC – Quarter Final 4 | 18:30 local | 18:30 GMT |
| 16-Jul-22 | TBC vs TBC – Semi Final 1 | 11:00 local | 10:00 GMT |
|   | TBC vs TBC – Semi Final 2 | 14:30 local | 13:30 GMT |
|   | TBC vs TBC – Final | 18:45 local | 17:45 GMT |
T20 Blast 2022 Schedule | The TIIS
T20 Blast 2022 Schedule: The 20th edition of domestic T20 cricket will begin on May 25, with champions Kent Spitfire set to host Somerset in a rematch of last season's final.
As per the Vitality T20 Blast 2022 schedule, the Vitality T20 Blast group stage will take place over a period of 40 days, with 99 matches out of 126 matches played on Thursdays, Fridays and weekends. The quarter-finals will be held from 6–9 July, followed by a sell-out final day at Edgbaston a week later.
 
Vitality T20 Blast 2022 Schedule Squad: This competition was established by the England and Wales Cricket Board (ECB) in 2003 as the world's first professional Twenty20 league. It is the top-tier Twenty20 competition in England and Wales. | Online Betting Id
The competition is known by many names due to commercial sponsorship. It was known as the Twenty20 Cup from 2003 to 2009, the Friends Provident T20 and Friends Life T20 from 2010 to 2013, and the NatWest T20 Blast from 2014 to 2017.